For more than three years, Bjørg ( left) has been working as a volunteer in the activity center where I work. She had been faithful and I really appreciate her effort to help. She is also eveywhere in the community where she can offfer a helping hand.
Anyway, she told me that her name actually means " to save or to help". So she is really living up to her name. Well I hope I do with my name which means " joy". Hi hi
But the sad thing is that she is going to move to another part of the country and we are not going to see her anymore, unless of course if she will visit us. The fact is that she is getting older now and her plan is to spend the rest of her life living nearby her one and only son and two grandchildren. I really understand her.
Then we decided to invite Bjørg to go out and eat in a nearby restaurant.
And here are my co-workers Solveig og Anne Lise joining us.

We invited also Mildred, my co -worker who is now a pensioner. We are very happy to see her again and I believe she is happy too.
We invited Iselin ( left) who sometimes works as a volunteer too.
And now, for the food we ordered:
Mildred
My order is a Mexican dish. Really miss my daughter who is in Mexico.
For Solveig
Anne Lise

Iselin
Bjørg
and the rest
Bjørg read a poem for us before we departed, but it was in Norwegian language and difficult to tranlate in English, so I borrowed this poem from " Google".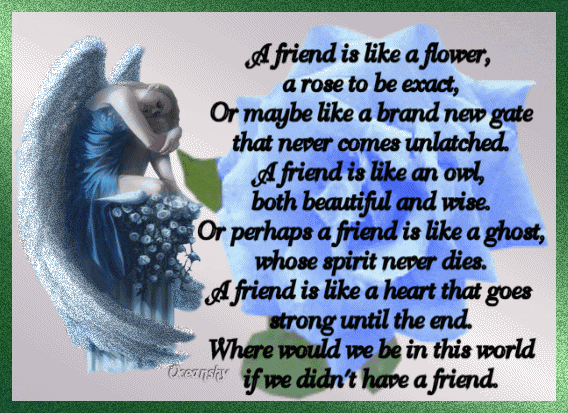 source
And we gave Bjørg a bottle of coffee liqueur as a gift.
And last but not the least, my daughter Kamilla sent pictures from Mexico that really touched my heart.
Here she is, cooking dinner.
And her friends and a visitor from Norway. The brother of Caroline, second from the right.
My daughter's ( left) smile makes me happy.
And this is a part of their curriculum. Playing volleyball.
The area which my daughter stays with three other girls from Norway.
A picture of a church in Merida ( Mexico) where the students visited.
And picture of the hotel in Merida center where she stayed with other students when they had field trip .
Oh, I wish I can be there. Pictures that touching my heart.
JOY